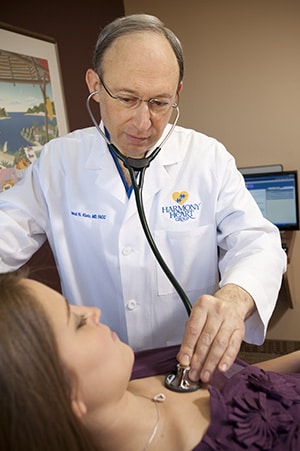 WHAT IS A CT ANGIOGRAM AND WHAT IS IT FOR?
The CT Angiography procedure is a medical test your cardiologist in Plano TX can perform to help determine if your heart and surrounding blood vessels are at risk of becoming blocked by plaque (cholesterol) buildup. The CT Angiogram procedure uses advanced imaging technologies that can create a three-dimensional, photo-realistic image of your heart and arteries. This 3D image of your heart can assist your cardiologist in assessing your risk for specific complications, such as heart attack or stroke. Not only is the CT Angiography test extremely accurate, it is also safe and is by far one of the most advanced methods of detection available today.
HOW DOES CT ANGIOGRAPHY WORK?
The CT test is made possible through the use of special equipment and procedures, and is relatively quick, simple and virtually painless. First, while the patient lies inside the CT scanner, a contrasting dye is injected into the patient's arm using an I.V.  The CT scanner photographs the patient's heart (or other area of the body), and creates a detailed, 3D (and 4D) image that can be reviewed by a cardiologist. Using the results of your scan, your cardiologist can determine if your heart has any plaque build-up as well as view other defects in your heart and arteries.
HOW SHOULD I PREPARE FOR THIS PROCEDURE AT
HARMONY HEART GROUP?
To prepare for your CT angiography procedure in Plano, we would ask you to refrain from eating or drinking a few hours before the procedure, as it can affect the contrasting dye used in the exam. It is also extremely important to notify the doctor of any allergies, especially those pertaining to contrast agents such as the ones used in CT Angiographies and similar exams. It is best for patients to wear comfortable clothing and to remove any items that contain or could potentially contain metal, such as jewelry (earrings, bracelets, watches, etc.), glasses, and so forth, prior to the exam. These items and similar objects could interfere with the imaging results produced by the CT equipment.
IS A CT ANGIOGRAM PAINFUL?
There is almost no pain involved in performing CT Angiography. There may be some pinching of the skin while an IV is started.  Patients may feel a generalized sensation of warmth when the contrast material is injected (via an IV) into their arm.  In rare instances the contrast material can cause an allergic reaction that causes itching, racing of the heart and inability to breathe.  However, trained specialists are prepared to deal with any discomfort patients may experience arising from an allergic reaction. Once the patient is inside the CT scanner, it does not physically come in contact with the patient, but some patients may find it difficult to hold still for the duration of the test, especially if they are claustrophobic.
WHAT TYPE OF EQUIPMENT IS USED FOR A CT ANGIOGRAM?
In order to create the three-dimensional, detailed images of your heart or other areas of your body, cardiologists use the latest technologies. CT Angiography is at the forefront of medical imaging and can produce sharp, accurate images of any part of the body in a relatively small amount of time – sometimes in as little as 5 seconds! The use of such technology has dramatically grown over the years, and is now being used to diagnose heart complications, cancer and other medical conditions. CT technology is by far one of the best methods of detection and prevention.
WHAT ARE THE BENEFITS AND RISKS OF A CT ANGIOGRAPHY PROCEDURE?
Patients are now choosing to have a CT Angiography exam over traditional exams, such as an MRI or conventional angiography, because it is safer and more accurate. A CT Angiogram typically produces no side effects and there is virtually no recovery time. And because the imagery provided by a CT Angiogram is more detailed and accurate, a trained physician is able to easily and quickly diagnose any medical conditions. Just as with any medical procedure, certain risks exist. However, with a CT Angiogram, they are minimal and very rare. If a patient is allergic to the contrast materials used in the exam, there are other alternatives. Women should notify their physician if they are pregnant or nursing, as the radiation from the CT machines may cause complications, just as with traditional x-rays.
HOW DOES A CT ANGIOGRAM VARY FROM A TRADITIONAL ANGIOGRAM?
In a traditional angiogram, the imaging results are not as sharp and accurate as those produced from a CT Angiogram. The exam is more time-consuming and since it is invasive, it is accompanied by more risks (bleeding, bruises, stroke, etc.). A CT Angiogram addresses all of these issues because it is safer, faster, far more accurate and virtually pain-free. The advantage of the angiogram is that while doing the angiogram any identified blockages that need stenting can be addressed right then and there. This is not the case with CT Angiography.