WHAT IS A CARDIAC CATHETERIZATION?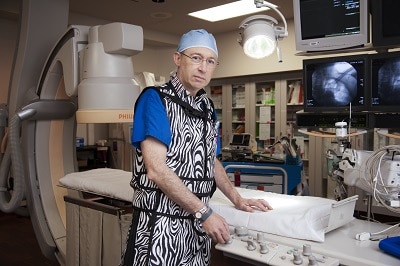 Cardiac catheterization is a diagnostic test in which a thin tube called a catheter is inserted into an artery and guided to the heart. A dye is injected through the catheter. X-rays then show where any problems may be. It is regularly performed in a hospital catheterization laboratory.
WHAT INFORMATION DOES A
CARDIAC CATHETERIZATION SHOW?
How well the heart is pumping
If any of the coronary arteries are blocked
If the heart valves are working properly
If you were born with a heart defect
If the heart has been damaged by disease
WHAT SHOULD I EXPECT BEFORE,
DURING AND AFTER THE PROCEDURE?
Before the procedure, you will be given medicine to help you relax. The test typically lasts between 30 and 60 minutes. However, if blockage is found, the test may last longer since you may require a stent to be placed during the procedure, also known as

angioplasty

.
Once the procedure is completed, the recovery process begins. For the next 24 hours, while in the hospital, you will be asked to rest the area where the catheter was placed (either the arm or groin) and to continue to drink extra fluids.
Before you leave, your doctor will provide you with specific instructions in order to prepare you for your recovery process at home.